Color Paint Matching
Hilltop Collision Center, Inc. uses the PPG Envirobase waterborne paint system, one of the highest quality & environmentally friendly automotive paints in the industry. This paint ensures a long lasting, vibrant, shiny finish to your automobile. PPG Envirobase paint is used by many high-end body shops today. Our on-site computerized mixing system ensures a perfect match.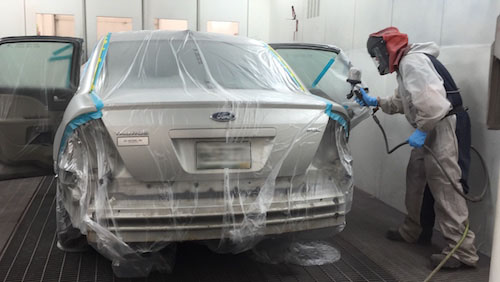 Down Draft Paint Booth
At Hilltop Collision Center, Inc., we don't just rely on our experience and excellent reputation. We have to keep up with technology utilizing the latest repair and paint application systems available. We have expanded and modernized our facility and installed a down draft paint booth which offers a controlled environment while painting your car, then bakes and dries the finish in the same controlled environment. Combine this with our computerized paint mixing system and you're always guaranteed an exceptionally flawless paint job.
Hilltop Collision Center, Inc. uses the most durable automotive paint in the industry PPG Envirobase High Performance Paint. PPG Envirobase Paint is an environmentally friendly waterborne paint that not only has a lifetime limited warranty for as long as you own your vehicle but improves air quality for the work environment and the community. PPG Envirobase HP aligns with waterborne technology used by original manufacturers to ensure superb color match!
Below are some tips on taking care of refinish work using PPG Envirobase Paint
In the first 90 days:
Do not wax or polish the vehicle – this will allow the finish to dry and harden completely. (Do not use silicone-containing waxes or polishes.)
In the first 30 days:
Do not use a commercial car wash. Stiff brushes or sponges could mar the finish and damage the surface. Wash the vehicle by hand with cool water and a very mild car wash solution. Be sure to use a soft cloth or sponge.
Wash the vehicle in the shade – never in the sun.
Do not "dry wipe" the vehicle – always use clean water. Dry wiping could scratch the finish.
Extreme heat and cold are to be avoided. Keep the vehicle parked in the garage or shade when possible.
Do not drive on gravel roads. Chipping the finish is easily done in the first 30 days
Do not park under trees which drop sap or near factories with heavy smoke fallout. Sap and industrial emissions mar or spot a freshly painted surface
Do not spill gasoline, oil, antifreeze, transmission fluid or windshield washer solvent on the new finish. IMMMEDIATELY rinse off the water. DO NOT WIPE.
Do not scrape ice or snow from the surface. Brush off the loose material with a soft snow brush.
We use PPG Envirobase HP Paint so your vehicle receives not only one of the most durable paints in the industry, but is an environmentally friendly waterborne paint. When you pick up your vehicle, you'll drive away with a limited lifetime warranty that will last as long as you own your car or truck.